Don't try your luck in Costa Rica, it's a luxury you can't afford.
Let me tell you a little story about how much i've been stupid in Costa Rica some weeks ago. Which lead me in losing all my photography gear the first day of my vacations there. If you plan to go to Costa Rica for vacations, and rent a car, this story is for you.
Time shifting is not your friend
My girlfriend and I took a plane from Paris to New York with American Airlines. Eight hours of flight without screens, 2 rows of 3 seats only, small plane, i didn't knew by then that they were almost out of business. We arrived in snowy New York (20PM / -9 degrees) for 22 hours to visit @alioutta & @lmc. The next morning, we walked in snowy central park.
Late in the afternoon, we took our second flight from New York to San Jose. Still American Airlines, still no screen, still small plane, the only good point was that flight was only six hours. We had booked a car in advance with Thrifty. A guy from the company came to pick us at the airport, took us to their central office nearby, and 25 minutes after some paperwork we had our rental car (Suzuki Jimny). This car, and most of the rental 4WD from Thrifty don't have alarms. We had only one hotel booked in advance, the one for the first night. This hotel was in Alajuela, it took us almost one hour and a half to get there, because we got lost several times. We arrived there @11:00PM. The next day, we got up early because of the time shift, and started to drive to Quepos @9AM. It was 32 Degrees outside :
We arrived there @12:30PM. We looked for a normal parking spot in the main street because I could remember some warnings i've seen at the rental car office :
1400$ fine if you got your car removed.
680$ fine if you are 20km/h & more above the speed limit.
So we parked on a regular parking space, in the main street. Quepos, like all the coastal cities in Costa Rica is just a very small town. Our original plan was to :
Grab some sandwiches nearby
Find our next hotel, throw every bags in the hotel room
Go to the beach to relax from those two days of travel.
Pretty basic. But the plan got changed a little.
When you are tired, you just take bad decisions
So we took all of our valuables out of the car with us : phones, wallets, cash, tablet (thanks #Nexus7 for free GPS), passports, etc. At this point, we had traveled :
16 hours of plane.
5 hours of car.
(- 8 hours) of time shifting since two days.
We were at -3°C in Paris, -9°C in New York, 32°C in Quepos.
First real stop, we could almost feel the holidays starting, we decided to eat in the restaurant in front of the car. We left our cabin bags & big bags in the car, locked.
We asked the waitress for an hotel and a good one should be 2 blocks away from the restaurant. What could happen in 10 minutes ?, i decided it was a better idea to leave the bags in the car time for us to check is any room was available. So, this is how your brain is working after you got tired. I thought it was possible to left bags in a locked car in Costa Rica for 10 minutes and get around. How stupid I was, but couldn't realize that, the first day in this country. By getting inside the hotel, we could almost see the car in the street. It was 200 meters away and i would rather walk a little than to drive all around this little town with a 4WD, i really need a walk without all my bags on me for 10 minutes. We were never more than 200 meters away from the car, and for less than fifteen minutes overall. Here what's happened to our rental car while we decided to get away :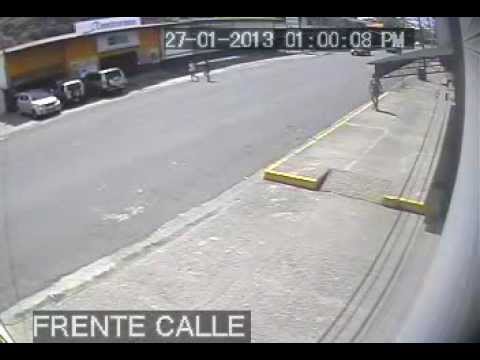 Gone in Sixty Seconds
Some people from Costa Rica, or nearby countries, (Nicaragua and Panama) according to different sources, (police/local people), are getting rental 4WD in San Jose. Then, they just go to tourists areas (San Jose is in the middle of the country, and there are plenty of tourists areas everywhere nearby in all directions), to open rental cars and steal bags. It's a kind of a specialty here in Costa Rica. I have to admit that they are skilled at what they do. The thief had a rental DAHIATSU TERRIOS (white) and he was able to :
Spot the car
Force the door
Steel bags discreetly
Getting away (almost) without getting noticed by anyone.
All the above within almost four minutes. If you want to know some more stuffs, keep reading, it's pretty fun, if not: Be careful in Costa Rica, don't ever let anything in a locked car, even for five minutes or less they are too good at opening cars.
Police Station
So, the thief took the two cabin bags from the car, in one of which there was all my photography equipment :
NIKON D7000
18-135mm (all around situations)
35mm (street)
50mm (portraits)
All my memory cards, extra battery, Pen cleaners, chargers, etc ...
I didn't knew that yet, since we were at the hotel, two blocks away, booking a room. While we were booking the hotel in Quepos (The Wide Mouth Frog) the guy at the reception immediately asked us were our bags were, we told him that they were in the car, in the main street, two blocks away. He told us to bring back the car immediately, that the only secured street in the city is in front of the hotel itself cause they have a permanent guard with an assault riffle that watch over the cars at night. He scared us a little, but i was thinking, that in such a short time, everything was gonna be ok. LOL. When we arrived at the car, the drivers door was unlocked. I noticed the big bags and thought ... ok nothing happened ... i just forgot to close the door. The two cabin bags ? Long gone, the way you saw it in the video. To sum things up : The first day in the country, first real stop with the car, I just lost all my photogear just because of a stupid decision. Lesson learned. Within the next five minutes a police car just passed by, I stopped them, told them the story. So they bring us to the police station.
Happiness is only real when shared
Since the original plan changed a little, here we were, at the police station. The policemen put their black powder everywhere on, and within the car, to find fingerprints. One of them showed me the the missing joint's part on the driver's door, which for sure, has just been cutted'out. He started to told me that this kind of robbery is something not really surprising in Costa Rica (not Quepos especially, since they can target any tourist area). Less than fifteen minutes after we arrived at the police station, we had some new friends. An American couple, in the 40s, just arrived. And guess what ? They left their 4WD locked in front of one hotel in Quepos, just 5 minutes, time for them to check a room and when they came back. Everything was gone for them. I mean it. Passports, credit cards, phones, bags, clothes, everything was gone. They left everything in their car, they lost everything within five minutes, plain simple. They couldn't even make an opposition for the credit card since they couldn't make international phone calls from the police station. I am sorry for them, but i kinda felt lucky when i heard their story compared to our.
I'm just curious
The next day, After visiting the Manuel Antonio national reserve, we went back to our previous days parking place to make some observations; after all, who knows ? We noticed two cameras just above the car on the same side of the street. We asked to speak to the boss of this business to tell him our story and to ask him if his cameras are working. He told us yeah sure, but they are not recording on Sundays, since the shop is closed. Unlucky for us, it was a Sunday. He told us to ask the opposite street business boss cause he has a camera surveillance system too. We told him our story, asked him, and bingo, his cameras are recording everything and keeps backups for a week. He invited us to come in and showed us his camera system just to check if one of the camera were filming the parking spot. And Bingo ! We gave him the hour range when we were parked there, and he asked us to come back the next day, he will get the footage ready. His name was Jesus, seriously. The next day, in his office, he showed us 'El Gordo'. The thief has already been spotted in town according to his workers, and since he's fat, they called him like that. Jesus asked us to buy an USB key and some people from his video surveillance company will come to extract the video to it. I couldn't bring back pictures from Costa Rica, except those taken with my Nexus5 but, i will have at least a souvenir, this is how this video ends up on Youtube, thanks Jesus !
I thought the cops would have came to this shop before me. It's been three days and no cops showed at this business to ask for anything, espacially videos. So i went back to the police station to gave the footage to the cop that were in charge of my file. His name was Eliot, seriously. I thought that maybe one of the cops could have recognize that thief. Between the day of the robbery January 27th & the day i got the only email from police February 6th they have arrested three other guys (only in Quepos) that were opening locked cars the same way i got robbed. So yeah it must be pretty common in Costa Rica after all. Their rental 4WD was containing tourists stuffs, but not mine according to Eliot's email. When i returned the car after two weeks at the Thrifty agency, they told me that i was lucky. Some people got their rental car stolen, passports, every bags, etc ...
My advice is : I really don't think it's a dangerous country, but, if you plan to rent a car, and travel across the country, avoid :
Quepos
Jaco
Limon
San Jose
Nothing to see there, and a higher probability of getting something robbed, and don't ever let anything in a locked car, even for five minutes or less, they are too good at opening cars.
My brand new Fujifilm X-Pro 1 has just arrived. I have decided to travel light from now on.
Cheers,